New! The SitStat Monitor Tool displays the unit status in the incident list to match the map!


Recent! T
he
SitStat Monitor Tool
has

a
Dark Mode
option!
---
The SitStat Monitor tool improves the way the situation is monitored and displayed on the map. It features:

A streamlined view of the map,

A data-forward approach to the SitStat Monitor panel,

A settings menu that allows you to adjust what is viewed in the panel and on the map,

A drawdown in the panel and drivetime on the map.

It replaces the CAD and AVL map layers and the Incident Monitor and Drawdown tools.

---

SitStat Monitor Overview

Page Layout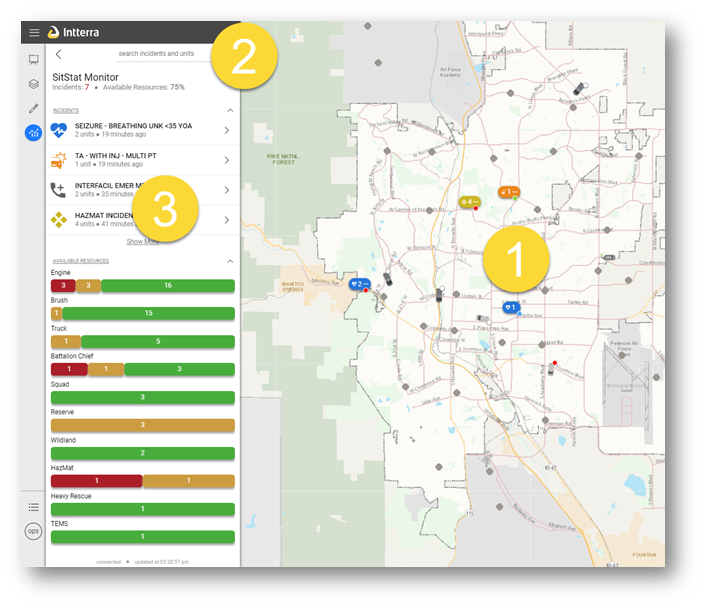 Streamlined map



Search




Incident Monitor panel - Data-forward approach


Agency basics

Interactive incident and unit lists

Available resources

Access advanced filters and drivetime display

---

Map

Symbology


Matches Incident Monitor panel

Shows # of units assigned


Shows status – small dot - enroute, on-scene, etc.


Indicates the type of incident

Legend:

Incidents, Units, and Stations form 'clusters' of activity


The symbol with three dots indicates there is more to see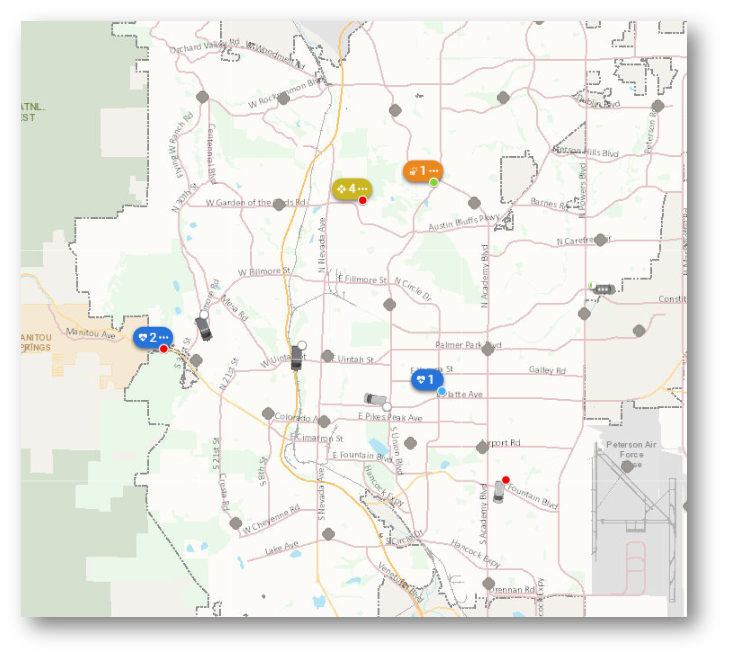 Two ways to get more details :

---
Incident List

Summary of all active incidents

Interactive with map


Same symbology

Mouse hover highlights incident


Click for more information


Opens selected incident

Selects on map


Zoom to incident

---

Routing

Select an incident.

Click on the underlined address.

The default map apps opens in a new browser window and the route from you current location to the incident is calculated.

Follow map app prompts to start routing. NOTE:

The map app may not have an option for routing on some desktop computers.



To return to the Intterra app -


Apple (iOS) - press the home button twice and select the Intterra app.

Android - press the device 'window' button and select the Intterra app.

---

Unit List

Select unit


Unit details

Highlights on map


Zoom to location

---
Available Resources

Displays availability by client-determined categories

Only client-defined resources show up - pick exactly what you want to track

Interactive with map

Click to see more

---
Settings

| | |
| --- | --- |
| Option | Action |
| | Incident categories you want to see on the map and in the incident list. |
| | Unit types you want to see on the map, and in the incident list. The agency unit selections also control drawdown. Select Unit Animation to glide units to a new location. |
| | Turn stations on/off on the map. |
| | Select the Drivetime increment you would like to display on the map. Choose to show density and all agency or apparatus type selections for drivetime in this section. |
NOTE: If you have filters applied in either the Units or Incidents settings, the Incidents count, and

Available Resources percentage will reflect the filter selections accordingly.

You can tell that you have something filtered based on the presence of the filter icon.

---

Monitor CAD Connection and Updates