View Assessment, Summary, and Homeowner Reports

Several PDF format Home Risk Reports can be generated by lassoing an area of interest in Intterra. These reports provide quick access to assessment details and summary information that can then be printed or emailed.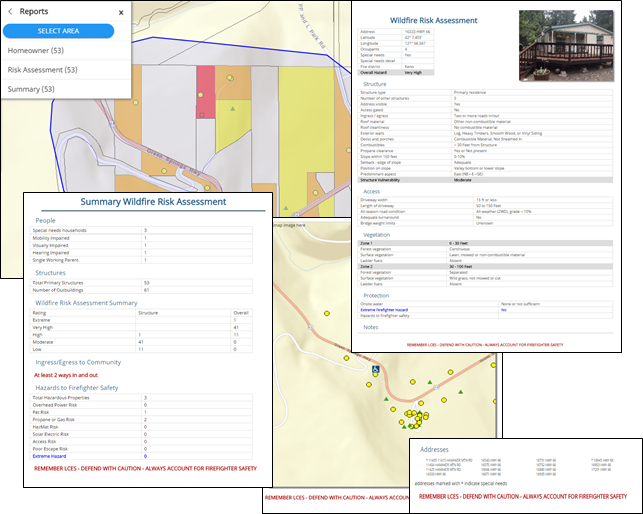 The two standard Home Risk Reports include:

The Risk Assessment Report is designed to be a one-page-per-structure document that displays one photo (the first one that was taken or added during the assessment) and all of the collected information.


The Risk Summary Report is a tally of the assessments for a lasso'd area that focuses on counts or sums of yes/no questions and the number of structures by rating. This report includes a map and list of addresses from the parcel data. The intent of this report is to provide information to incident responders - both fire and law - so that they have an assessment of a subdivision that may require a structure protection group or law enforcement evacuations. This report consolidates valuable information in such a way that it can be utilized to more effectively plan for and communicate risk reduction ideas to a community or neighborhood.

A third
Homeowner Report
is available to systems configured for
Public Interaction
. This report is designed to provide key assessment information to a homeowner, as well as educate them about why the factors that were assessed are important to the well-being of the structure and surrounding areas. See
Home Risk Tool - Public Interaction
for additional information.
To find the reports:

Go to Tools Menu and select (Risk) Reports.

Tap the blue Select Area button and follow the directions to draw a shape around the properties or neighborhood of interest. NOTE: The more properties that you select, the longer the reports will take to generate; we recommend selecting parcels by neighborhood, rather than by town.

When the reports are ready, they are listed by report type below the blue Select Area button.

Tap the report to see the results.

You then have options to print from the report window, as well as view the reports in a separate web browser tab.

Click Print to print the report to PDF or on paper. See E-mail a Report (PDF).

Click Open in New Tab to view the full report in a new browser tab.

Click Close to close the report (so you can then refine your report query, move on to other tasks, etc.).